Residents and visitors in the unincorporated neighborhoods of Mifflin Township will need to plan ahead for the coming months when traveling on Agler Road.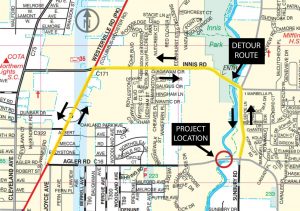 The Franklin County Engineer's office has announced that Agler Road, between Westerville Road and Sunbury Road, will close beginning Monday, June 20, 2022, for bridge improvements and last 145 days, weather permitting.
The posted detour route for westbound motorists on Agler Road will be:
– follow Sunbury Road north to Innis Road,
– west to Westerville Road and
– south to Agler Road.
Eastbound motorists will follow the detour route in the opposite direction.
For updates on the road closure, visit www.franklincountyengineer.org or follow the Franklin County engineer's office on social media.