The search for a 17-year-old male teen who walked into the Big Walnut Creek near Academy Park in Gahanna late on Monday entered a new phase today. As water levels receded, area agencies assisting in the search determined that they could safely launch boats to search for the missing teen.
Emergency personnel from Mifflin Township Division of Fire, the City of Gahanna, Columbus Division of Fire, Franklin County Sheriff's office and West Licking Fire are searching areas of the creek which previously were unreachable due to high water. Throughout the week, a Columbus Police helicopter and Gahanna, Columbus and New Albany Police drones were deployed to survey the area for signs of the victim.
On Monday evening, emergency services received a report of a missing teen who walked into the water near Academy Park. Since that time, emergency personnel have conducted searches on foot in and around the creek for signs of the victim, extending from Academy Park to south of Creekside near the VFW-Tri Community Post 4719.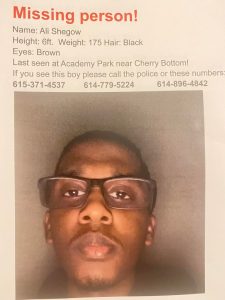 "We will continue to closely monitor the water level and utilize boats to assist with our efforts as the conditions allow," said Mifflin Township Division of Fire Chief Frederick Kauser. "We continue to work with the victim's family, and we will exhaust every opportunity to recover this young man for them."
Trails along the Big Walnut Creek continue to be closed due to high water in the area where the search is being conducted. Woodside Green Park is closed to allow emergency services to conduct water rescue operations throughout the afternoon. The public is urged to stay clear for their safety.
Flyer shown provided by family of missing teen.