GAHANNA, Ohio – Early Thursday morning at approximately 1 a.m., a driver was arrested, having driven into Mifflin Cemetery and causing extensive damage to the grounds and several headstones in block 5 off of the entrance from Olde Ridenour Road.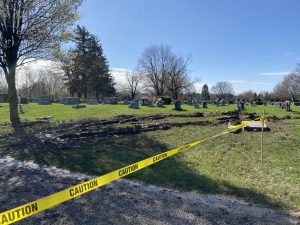 Mifflin Township Service is currently working in coordination with the Gahanna Division of Police, as well as insurance, to assess the damage.
Affected families with contact information on file are being notified. If you aren't sure if your loved ones' grave was affected, please call (614) 471-4494 and ask to speak with the cemetery foreman for further information. To assist with determining if your family grave was affected, visit https://mifflin-oh.gov/…/uploads/2020/09/Mifflin.pdf to view a map and identify the location of block 5.
Currently, caution tape is up and visitors walking the grounds are asked to avoid the area. Mifflin Township will work diligently in the coming weeks to restore the grounds to the peaceful surroundings our visitors have come to expect.