The Mifflin Township Trustees, Fiscal Officer and former Township colleagues extend their deepest condolences to the family and friends of Joseph Spanovich, long-time Mifflin Township Trustee and Fiscal Officer, and Gahanna civic leader who passed away late Monday.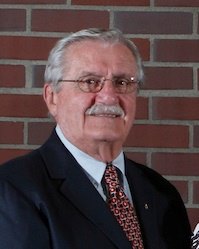 "Throughout his lifetime, Joe was a diligent and dedicated public servant, whether serving his country, mentoring youth or making his community a better place to live and work," said Mifflin Township Board of Trustees Chair Lynn Stewart. "We will be forever grateful for the life lessons he handed down from 'the greatest generation.' Of all the things that he accomplished, gaining the trust and friendship of so many was his greatest achievement."
It is difficult to appreciate the impact Joe Spanovich made on the Mifflin Township and Gahanna community since his public service dates as far back as the late 50s. He first ran as a Gahanna Village Councilman in 1958, a post he held until 1985. Most notably, he served as the first Mayor of the city of Gahanna, when Gahanna passed the significant milestone, turning from a village to a city. Gahanna was officially declared a city in 1970.
For those who live in Gahanna, his fingerprints are on much of the progress that many take for granted today. As mayor of Gahanna, he was instrumental in ushering in a new era for the new city, facilitating the transfer from a village to a city, which included new services and an expanded staff and infrastructure. He expanded the Police Department to a full-time status, and oversaw the development of the Municipal Complex, located on Hamilton Road in downtown Gahanna. During his time in office he oversaw the purchase of property that would become Gahanna Golf Course and Friendship Park.
In 1985, Joe turned his attention to Mifflin Township, and ran for the office of Mifflin Township trustee. He won the office and held that position until 2018. Following his role as trustee, Joe was appointed to fill the unexpired term of fiscal officer, serving in that role from 2018 until March of 2020 – making him one of the longest serving public officials in the state of Ohio.
When he first became a trustee, the township had a fire department with 12 full-time firefighters serving a population of about 16,000, two fire stations, one fire engine pumper, and old ladder truck, a medic and a rescue vehicle. Under his tenure, Mifflin Township Division of Fire grew to four fire stations with about 100 employees. Additionally, Joe oversaw the Mifflin Township Police Department and Service Department.
"He seemed to have his finger on the pulse of the community, and that often came from listening to residents and really empathizing with their concerns," said Richard Angelou, Vice Chair of the Mifflin Township Board of Trustees. "He brought charm, wit and kindness to our lives and are all better people for having known him."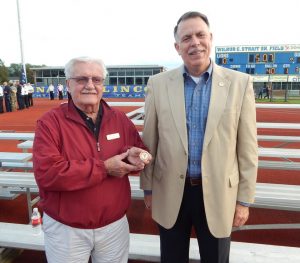 Long before Joe served his community, he served his country. Eight days after graduating from Central High School in Columbus, Joe was in the United States Navy and on his way to Bainbridge, MD, where he would be stationed to serve aboard the USS Gainard (DD 706). As the conflict in Europe was coming to an end, Petty Officer Spanovich made port on the USS Gainard in more than a dozen European countries.
In the last months of the war and immediately following, Allied soldiers discovered numerous Nazi concentration camps and forced labor facilities that were responsible for the deaths of an estimated 11 million people. During this time, Petty Officer Spanovich, having parents who spoke Hungarian, served as an interpreter in the countries in and around the Adriatic Sea. One such port was in Triest, northern Italy, where a Nazi concentration camp, Risiera di San Sabba, had been located. After the war, the camp served as a refugee center and transit point.
Joe served in the United States Navy for three years during and immediately following World War II, and in the Naval Reserve for five more years. After returning from the war, Joe took advantage of the GI Bill and enrolled in The Ohio State University and obtained his Bachelor of Science degree in Education, as well as a Master's degree in School Administration.
Joe was employed as both a teacher and principal in central Ohio school's for more than 25 years, as well as taught education classes in the summer at Capital University. He served on the legislative committee for the Ohio Education Association, initiating a number of changes that benefitted educators. He also was instrumental in initiating and promoting the HeadStart program for the Whitehall City Schools when the program was first launched.
"His presence will be missed in our community, but we are so grateful for having had his invaluable contributions for many years," said Nancy White, Fiscal Officer. "He was known to us as someone who built things. He built his house himself many years ago in Gahanna, he built a community to be proud of and he built a life worth living. We will miss him tremendously."