Mifflin Township, as part of a consortium of several local governments, approved a new three-year contract from Rumpke for trash and waste removal in the Mifflin Township unincorporated area to take effect on Jan. 1, 2022 through through Dec. 31, 2024. During the past three years there was no increase in cost to residents. The township received one bid for services from Rumpke of Ohio.
The rates will hold steady for the next three years, with an option to extend the contract for a fourth and fifth year. Residents aged 60 years and older who are the head of the household can receive a discount equal to 10 percent or $1.50, (whichever is greater) off the per residential unit charge.
The fees charged by Rumpke will be as follows: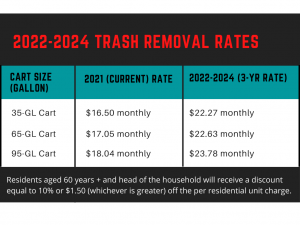 The consortium negotiating the contract includes Plain, Washington and Blendon Townships, cities of Bexley, Dublin, Gahanna, New Albany, Reynoldsburg and Westerville, in addition to Mifflin Township.
For questions concerning your trash service, pick up, holiday schedule and other billing issues, contact Rumpke at RUMPKE of Ohio or (800) 828-8171. For details on various types of trash collection, visit Trash, Recycling and Yard Waste Collection – Mifflin Township (mifflin-oh.gov)